South Adams County Fire
District Board
South Adams County Fire Protection District Board of Directors consists of five residents committed to furthering the district and efforts exclusively to the provision of fire and emergency services. The Board of Directors are responsible for overseeing policies and guidelines for the districts' administration and operations including review and approval of annual budget.
The regular monthly meeting of the Board of Directors will be held on the third Tuesday of each month from January through October, and on the second Tuesday during the months of November and December.  The meeting are held at 6:15 p.m., in the Board Community Room located at 6050 Syracuse Street at our Headquarters Office, unless otherwise specified.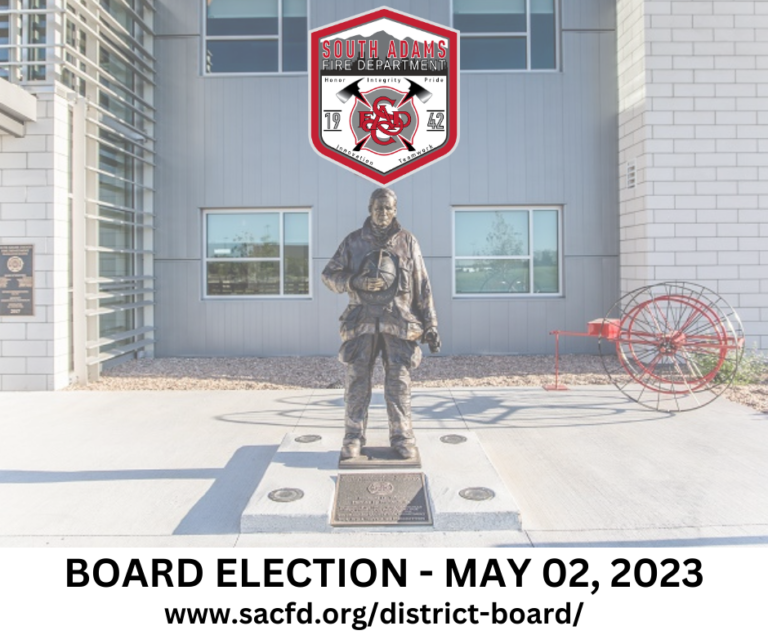 On May 02, 2023, South Adams County Fire Department will hold a board of directors election to fill two positions.
Vote in person on May 02, 2023, from 7:00 a.m. to 7:00 p.m. at the following locations:
South Adams County Fire Department, Station 28/Community Room; 10326 Walden Street
South Adams County Water and Sanitation District; 6595 E 70th Avenue




NOTICE OF REGULAR ELECTION
SOUTH ADAMS COUNTY FIRE PROTECTION DISTRICT
MAY 2, 2023
The South Adams County Fire Protection District ("District") is required to hold a regular election on the Tuesday succeeding the first Monday in May in the year 2023 to fill Director positions that have become vacant through expiration of the term of office or otherwise. Accordingly, the District is required to hold an election on May 2, 2023 ("Election").
Below are the qualifications to serve as a Director on the Board of the District:
You must be an eligible elector registered to vote in Colorado, AND
A resident of the District OR
The owner (or spouse/civil union partner of owner) of taxable real or personal property situated within the boundaries of the District OR
A person who is obligated to pay taxes under a contract to purchase taxable property within the District. 
If you are interested in serving on the Board of Directors of the District, please email elections@crsofcolorado.com and request a self-nomination  and acceptance form.  The form must be handwritten by the candidate.  The Self-Nomination and Acceptance Form must be returned to the Designated Election Official by 5:00 p.m. on Friday, February 24, 2023.  The form can be emailed to the DEO at the email address noted above.  A Self-Nomination and Acceptance Form that is not sufficient may be amended once at any time before 3:00 p.m. on Friday, February 24, 2023.  Earlier submittal is encouraged as the deadline will not permit correcting an insufficient form if received at 5:00 p.m.
Click "see more" for previous years
2023 District Board Minutes
January
February
March
April
May
June
July
August
September
October
November
December
2023 Pension Board Minutes
2022 District Board Minutes
January
February
March
April
May
June
July
August
September
October
November
December
2022 Pension Board Minutes

January
April
July
October
Fire District Board Minutes
January
February
March
April
May
June
July
August
September
October
November
December
Fire District Board Minutes
January
February
March
April
May
June
July
August
September
October
November
December
Fire District Board Minutes
January
February
March
April
May
June
July
August
September
October
November
December
Fire District Board Minutes
January
February
March
April
May
June
July
August
September
October
November
December
January
April
July
October
Minutes from the January 16, 2018 Pension Board Meeting
Minutes from the July 17, 2018 Pension Board Meeting
Minutes from October 16, 2018 Pension Board Meeting
Fire District Board Minutes
January
February
March
April
May
June
July
August
September
October
November
December
January
April
August
October
Follow Us on Social Media
SACFD Wants to Hear from You